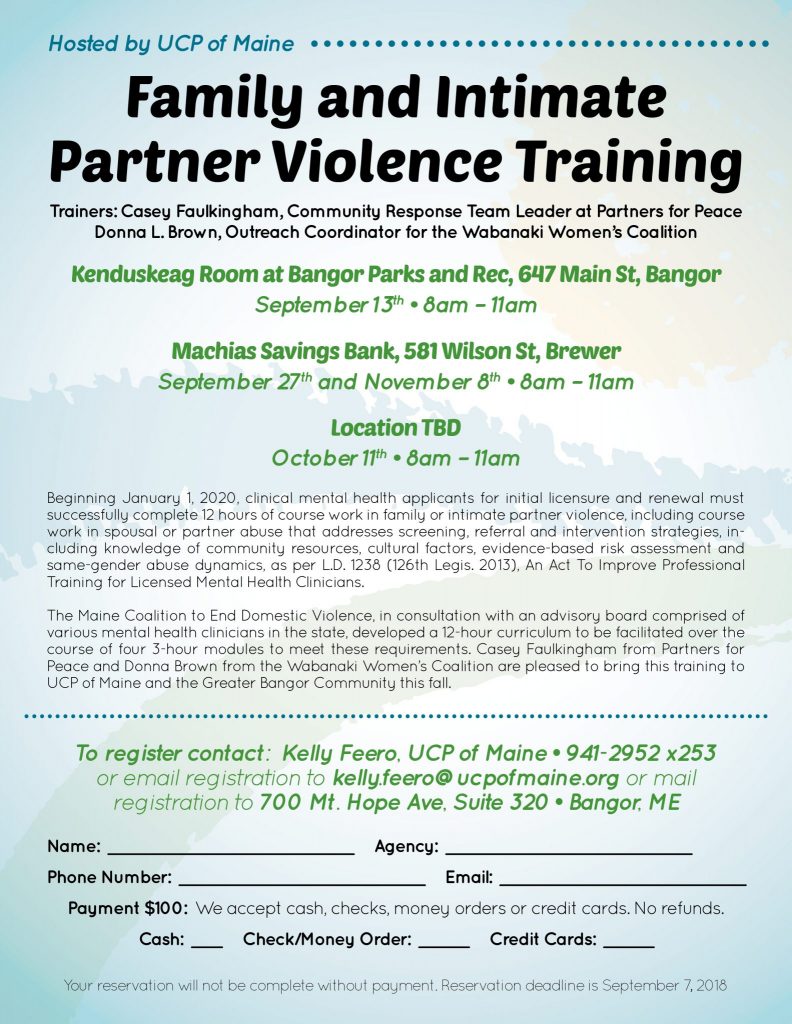 UCP of Maine will be hosting family and intimate partner violence trainings from 8:00am to 11:00am on Thursday, September 13 in the Kenduskeag Room at Bangor Parks and Rec, 647 Main Street in Bangor, Thursday, September 27 and Thursday, November 8 at Machias Savings Bank, 581 Wilson Street in Brewer, and Thursday, October 11 at a location to be determined. The presenters for the training will be Casey Faulkingham, Community Response Team Leader from Partners for Peace and Donna L. Brown, Outreach Coordinator for the Wabanaki Women's Coalition.
Bonny Dodson, Director of Clinical Services for UCP of Maine recently shared "UCP of Maine is very excited to be hosting these trainings and to be able to open them up to partner agencies. Beginning January 1, 2020, clinical mental health applicants for initial licensure and renewal must successfully complete 12 hours of course work in family or intimate partner violence, including course work in spousal or partner abuse that addresses screening, referral and intervention strategies, including knowledge of community resources, cultural factors, evidence-based risk assessment and same-gender abuse dynamics, as per L.D. 1238 (126th Legis. 2013), An Act To Improve Professional Training for Licensed Mental Health Clinicians.
The Maine Coalition to End Domestic Violence, in consultation with an advisory board comprised of various mental health clinicians in the state, developed a 12-hour curriculum to be facilitated over the course of four 3-hour modules to meet these requirements. Casey Faulkingham from Partners for Peace and Donna Brown from the Wabanaki Women's Coalition are pleased to bring these trainings to UCP of Maine and the Greater Bangor Community this fall."
To register, please contact Kelly Feero at 941-2952 ext. 253 or at kelly.feero@ucpofmaine.org. Payment is $100.00 per person and can be made by cash, check, money order, or credit care. Space is limited so register early! Registration ends on September 7, 2018.