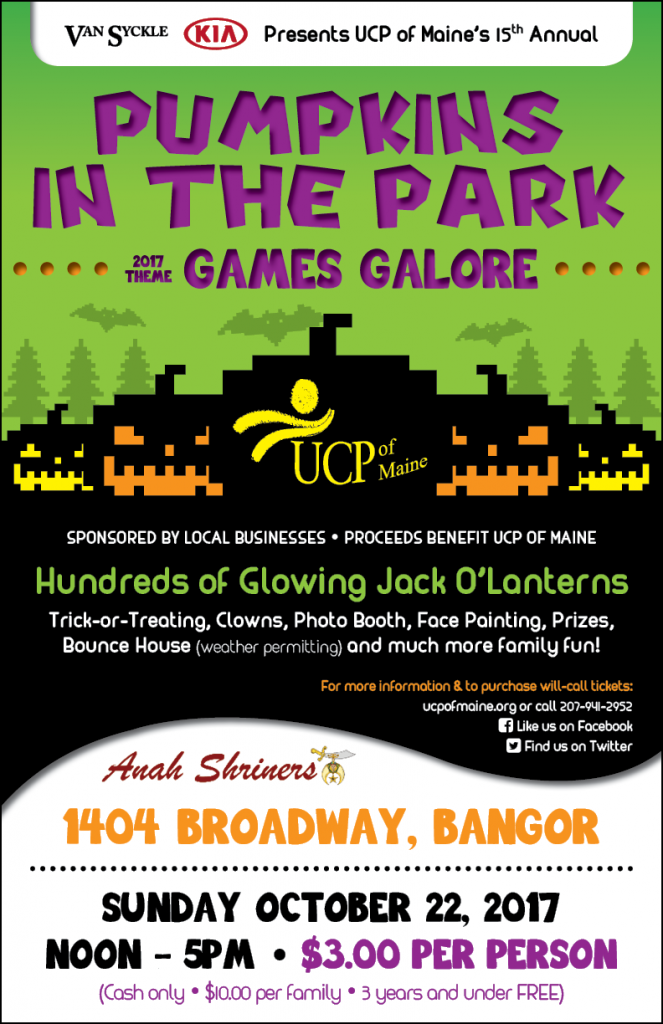 On Sunday, October 22, 2017 from Noon to 5pm, Van Syckle Kia presents UCP of Maine's 15th Annual Pumpkins in the Park at the Anah Shriner's building located on 1404 Broadway in Bangor. Andrew Lohman, Pumpkins in the Park Chair, recently shared "We are extremely excited for our 15th anniversary of Pumpkins in the Park. We're glad to be back at the Anah Shrine again and we have plans to make the event bigger and better than ever before!"

Pumpkins in the Park is an indoor community Halloween event for the entire family. This year's theme is "Games Galore"; patches and attendees are encouraged to come in a costume that represents their favorite video game, board game, game show, etc. At the event, attendees will enjoy warm and safe trick-or-treating at all of the business-sponsored pumpkin patches, with hundreds of glowing jack o'lanterns carved by area youth and business groups. Along with trick-or-treating, the event features the Anah Shriner clowns, a photo booth, face painting, prizes, bounce house (weather permitting), and much more! Any business interested in hosting their own patch can contact Mary Berube at 941-2952 ext. 326.

Pumpkins in the Park is a cash only event with admission of $3.00 per person or $10.00 per family, children 3 years old and under are free! Presale will-call tickets to avoid ticket lines the day of the event are available by contacting Brenda Wilson-Denning at 941-2952 ext. 308, or stopping by UCP of Maine at 700 Mt. Hope Ave Suite 320. Tickets will also be available at the door the day of the event. All of the proceeds from this event will benefit UCP of Maine in supporting the needs of children and adults with physical and intellectual disabilities in the community.

UCP of Maine will be holding multiple fundraisers leading up to Pumpkins in the Park to help raise money for the event. Uno Pizzeria and Grill located at 725 Stillwater Ave in Bangor, will be doing their Dough Raiser benefit all day on Thursday, September 28 and again on Tuesday, October 24. During this fundraiser, Uno will donate up to 20% of your check to UCP of Maine. Another fundraiser is with Chipotle Mexican Grill, located at 583 Stillwater Ave in Bangor. They will be doing their Cause an Effect benefit from 4pm – 8pm on Tuesday October 17. During this fundraiser, Chipotle will donate 50% of their proceeds to UCP of Maine. For all fundraisers, a flyer needs to be present for the donation to go into effect. Visit UCP of Maine's Facebook page for more information and to print the flyers out.