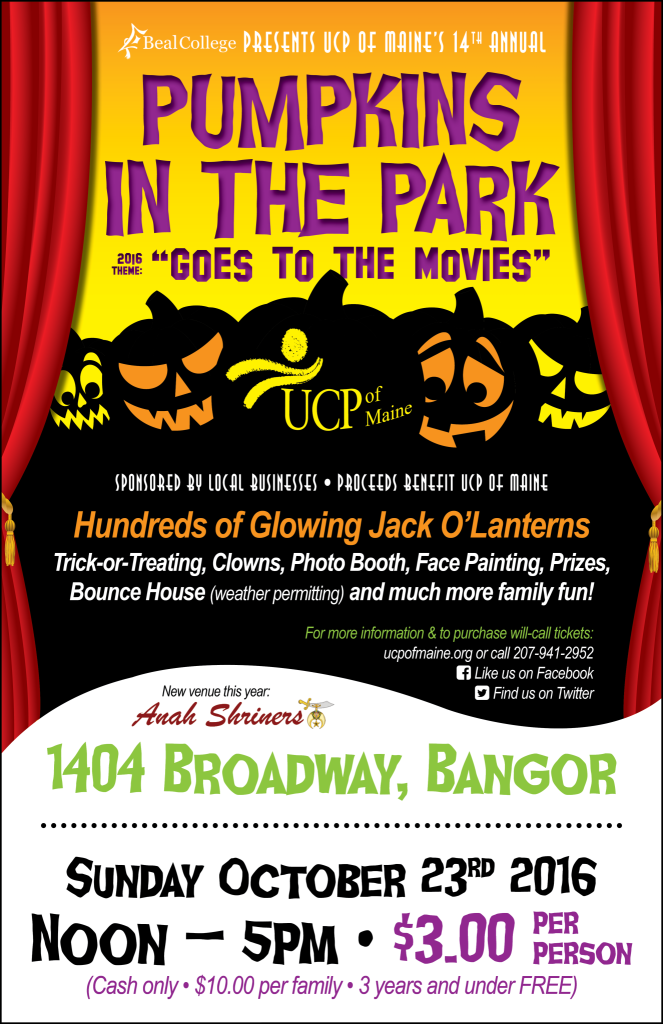 On Sunday, October 23, 2016 from Noon to 5pm Beal College presents UCP of Maine's 14th Annual Pumpkins in the Park at the Anah Shriner's building located on 1404 Broadway in Bangor. Jodi Fadrigon, Pumpkins in the Park Chair, recently shared "We listened to feedback from attendees last year and are excited to announce that we are at a new venue this year with much more space and ample parking to accommodate our crowd that continues to grow every year. With the larger space, we will have a defined path that families can take while visiting each pumpkin patch and separate rooms for all other activities, making the flow much more organized and allowing for a much more pleasant experience!"
Pumpkins in the Park is an indoor community Halloween event for the entire family. This year's theme is "Goes to the Movies"; patches and attendees are encouraged to come in a costume that represents their favorite movie or character from a movie. At the event, attendees will enjoy warm and safe trick-or-treating at all of the business-sponsored pumpkin patches, with hundreds of glowing jack o'lanters carved by area youth and business groups. Along with trick-or-treating, the event features the Anah Shriner clowns, a photo booth, face painting, prizes, bounce house (weather permitting), and much more! Any business interested in hosting their own patch can contact Mary Berube at 941-2952 ext. 326.
Pumpkins in the Park is a cash only event with admission of $3.00 per person or $10.00 per family, children 3 years old and under are free! Presale will-call tickets to avoid ticket lines the day of the event are available by contacting Brenda Wilson-Denning at 941-2952 ext. 308 or stopping by UCP of Maine at 700 Mt. Hope Ave Suite 320. Tickets will also be available at the door the day of the event. All of the proceeds from this event will benefit UCP of Maine in supporting the needs of children and adults with physical and intellectual disabilities in the community.
We are always looking helping hands with setup and take down, ticket sales, supervising children in the bounce house, face painting, keeping traffic flowing, making popcorn, working the photo booth, etc. Pumpkins in the Park is only possible through the generosity of volunteers. The event will be held Noon – 5 p.m. Sunday, Oct. 23, but help would be appreciated at any point throughout the day. To volunteer or to learn more, call Jonathan Smith at 941-2952, ext. 218.