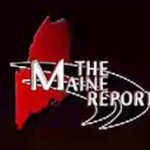 UCP of Maine recently participated in a television public affairs class project: The Maine Report developed by the New England School of Communications (NESCom) at Husson University.
Jeffrey Hope, program Director at NESCom, offered UCP of Maine a chance to participate in this news magazine style show produced by his students.  The format is similar in style to Bill Green's Maine.  It was a great opportunity to gain exposure with a younger demographic, practice our media skills, end up with a great piece about UCP of Maine all while helping students at NESCom/Husson University.
This unique opportunity allowed UCP of Maine to work with Olivia McCrillis, a senior at Husson University, on her televised project.  The show filmed on November 23, 2015 and went very well!
We would like to thank Mr. Hope and Ms. McCrillis for doing a fantastic job and now allowing us to use the finish product as we see fit.  The video will be on our website:  www.ucpofmaine.org/stories/blog as well as Facebook: www.facebook.com/ucpofmaine and Twitter: @ucpofmaine.
For more information on Husson University or NESCom click on www.husson.edu.  To learn more about the programs and services offered by UCP of Maine visit www.ucpofmaine.org or call us 207.941.2952.